HubSpot Onboarding.
Your ultimate guide to the HubSpot Onboarding Journey. Let UX-Digital help your business ascend the Hubspot Mountain and achieve your goals.
Your ultimate guide to the HubSpot Onboarding journey. Let UX-Digital help your business ascend the HubSpot mountain and achieve your goals.
What is HubSpot Onboarding?
If you're considering taking on HubSpot as your new CRM, you may have come across the term 'onboarding' but what is it?
Onboarding is the term used to describe the setup of the HubSpot portal for Starter, Professional, and Enterprise plans.
Every business is unique, with different needs when it comes to the HubSpot tools and functions, to achieve success it's important the setup process reflects your individual business.
The onboarding process is designed to provide training that familiarises your business with HubSpot's software and the inbound methodology at a pace that suits your business.
Structured onboarding is particularly valuable if your business is new to HubSpot or your teams are currently underutilising the HubSpot platform.
Why is onboarding important?
HubSpot has a structured onboarding because implementation is a big task for any business, particularly where established processes need to be migrated. That may sound a little daunting but that's the best thing about onboarding! It provides structure and an easy-to-follow map.
A structured onboarding process and a specialist to show you the ropes will ensure your business is using HubSpot to its full potential right out of the gate.
While there is an additional cost for onboarding it's absolutely worth it as an investment into the smooth running and future growth of your business!
Your HubSpot Onboarding Options.
There are two options for your HubSpot onboarding journey. HubSpot can provide direct onboarding, or you can choose to work with a HubSpot partner agency...like us! Both onboarding options are effective in unlocking the potential of HubSpot for your business, but which option is right for you depends on a number of factors.
If you're already familiar with HubSpot and have technical teams at your disposal the direct onboarding could be better suited to your needs. It's less hands-on and more consultancy-based with remote delivery. Direct onboarding is carried out over 90 days which is a long transition period to commit too but the less tailored approach is potentially more cost-effective.
If you're completely new to HubSpot and your teams need a little more technical support and guidance or maybe you feel you could benefit from working with a partner who has more knowledge of your industry, the Partner onboarding could be the better fit for your business.
At the end of the day, HubSpot is an investment in the future of your business so a bespoke onboarding journey with more support and the flexibility to fit your business's timescales is potentially worth it.
We eat, sleep and breath HubSpot.
Our team are well versed in getting the most out of the HubSpot platform. We aim to build lasting relationships with our clients and help them not only make the most of the software but grow as a result of adopting the inbound way of thinking.
Our team can support gradual HubSpot integration or jump straight in migrating your marketing, sales, customer service, content and,or operations all in one go. Our clients span the full range of HubSpot packages and key industries within the UK making us a versatile and experienced Agency to guide and manage your HubSpot journey.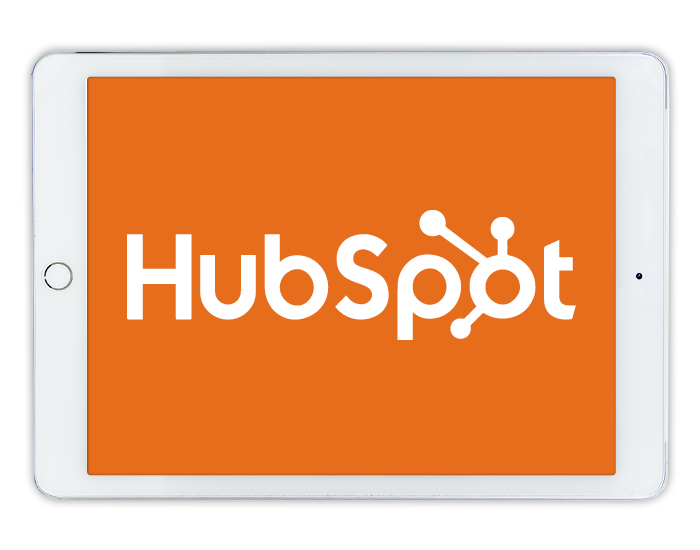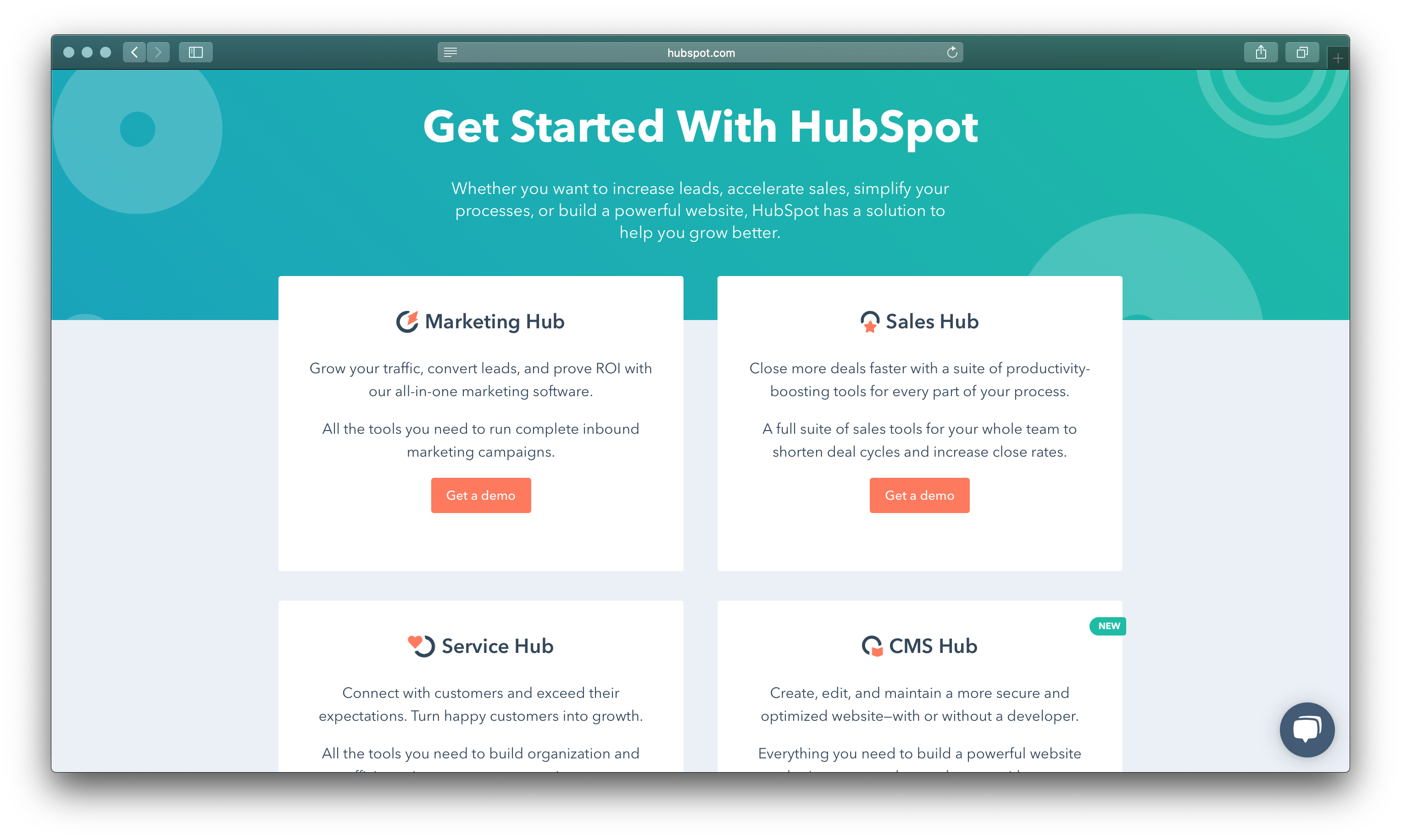 Choosing the right HubSpot package for your business.
Our onboarding packages have been refined over the years to offer a comprehensive process that is easily adaptable depending on your HubSpot plan and the individual needs of your business so no two UX-Digital onboarding journeys are ever the same!
This page is dedicated to providing a general summary of our onboarding process so you not only know what to expect from Agency onboarding but can also make an informed decision as to the right HubSpot onboarding option for your business. Onboarding differs across the different Hubs, (Marketing, Sales, Customer Service, and Operations) and will be more complex for Enterprise level packages.
UX-Digital Onboarding Plans
Prices vary across the different HubSpot Hubs, the below figures are for guidance only...
Getting started with HubSpot...
Remote Kick-Off Meeting
Content & Process Audits
Full Technical Set-Up
Dedicated HubSpot Account Manager
One on one remote support
Ongoing email support
Starter plan plus...
1 x Workshop
Support with 1 native integration
Support with Professional features
Guidance on developing, managing and executing your first inbound campaign
Up to 4 video calls with a strategist
Ongoing campaign support
Starter & Professional plan plus...
Strategy Session
Support with enterprise features
3 x UX-Digital inbound playbooks
Bespoke Sales, Marketing & Service alignment plan
Up to 4 video calls with a strategist
3-month strategy review with a strategist
Complete the form below to arrange your Onboarding with UX-Digital
A member of our team will be in touch to discuss your chosen Onboarding plan alternatively you will receive an email containing a link to book a Discovery call at a time that suits you. We look forward to speaking with you soon!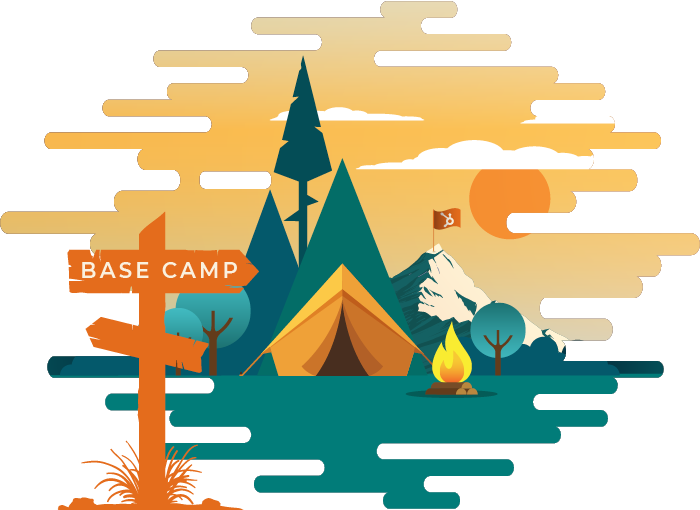 This stage can be as hands-on or off as preferred but represents the time we spend really getting to know your business and your HubSpot team(s). The UX-Digital team and your new Account Manager spend this time honing their knowledge of your business with some serious research into trends, growth, competitors, products, and services.
Whether you have marketing, sales and, or customer service this stage is defined with a kick-off call, buyer persona workshop (optional), and identification of the success metrics for your onboarding journey.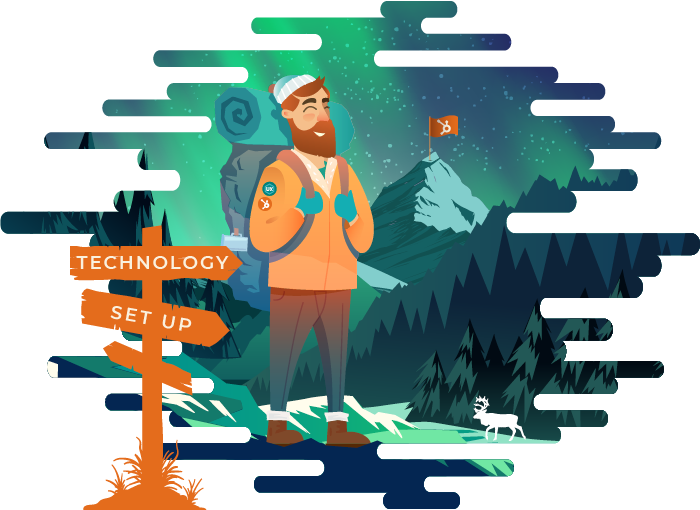 It's time to get your HubSpot Portal set up! Everything from branding and third-party app integration to HubSpot dashboard customisation is covered at this stage. The key areas covered across Marketing, Sales, and Service are the HubSpot portal set up, email set up and website set up.
If you have purchased the CMS your new website will be designed and built at this stage, or if not your existing website can be linked to HubSpot with tracking codes, calls to action and forms, (HubSpot can also house your blog and gather important traffic and engagement data). We will hook up your email domain and create branded email templates ready for your future inbound marketing campaigns and communications.
We will set up your HubSpot portal tailored to your specific sales processes. This means reviewing your existing CRM and, or lead management systems, installing HubSpot tracking codes across your website to better understand your leads and customers and importing your contacts and existing deals into the HubSpot platform.
HubSpot can support all customer service processes and technical set up includes connecting your service teams to HubSpot Conversations, configuring conversation notifications, tailoring and embedding the HubSpot support form into your website, importing existing contacts and tickets and creating bespoke forms to capture new customer service tickets.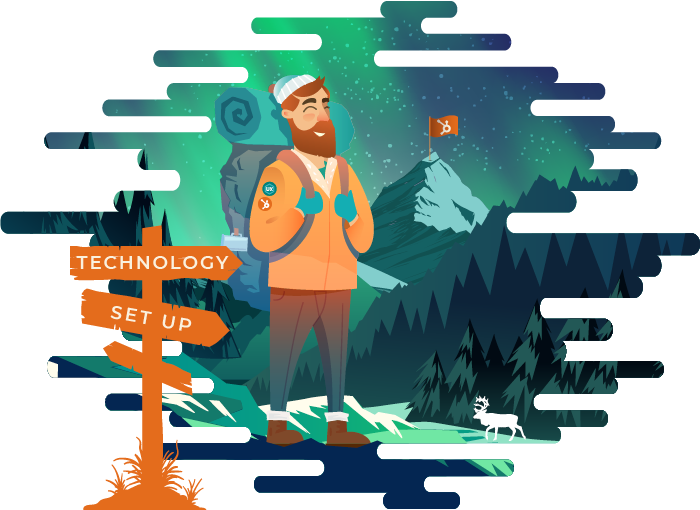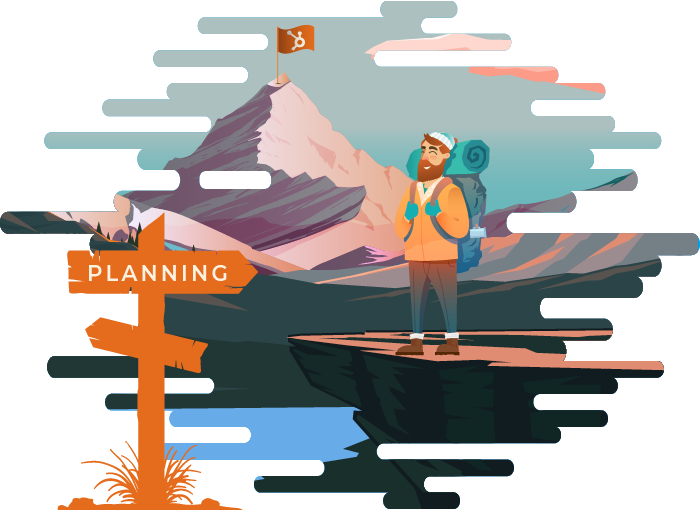 Now the fun really begins! This is the stage where we get ready to put HubSpot into action. It is the time to ask questions, complete training and really utilise our knowledge as an experienced HubSpot Partner Agency. We will complete audits and map existing processes to better understand how HubSpot needs to work for your business and plan our next moves. At this stage it's important to identify any resources already available to save time and achieve quick wins.
At this stage, we will assess your current lead capture and develop forms and pop-ups that will get you some new leads, quickly. To support new data capture and streamline your marketing process, we will identify the right properties you need to qualify leads. We will also look at your Content Strategy, Ad Strategy, lead scoring, and lead lifecycle (based on existing leads and customers) ready to start creating your new marketing campaigns.
We will assess your current communication channels and identify the most effective for your sales teams in line with lead and customer preferences. We will offer training and guidance in the use of HubSpot's live chat and appointment booking features ready to answer your prospect's questions and schedule sales meetings. Finally, we will create email sequences that target your qualified leads at the right time with the right information ready to streamline your sales process and close deals.
We will take a look at your current customer service issues and open tickets to identify any gaps that customers could be falling through. We will ensure all appropriate processes are covered by your new HubSpot ticketing and the right reps are assigned to the right tickets via ticket automation. At the planning stage, it's important to optimise your service pipeline and processes so HubSpot is ready to start serving your customers.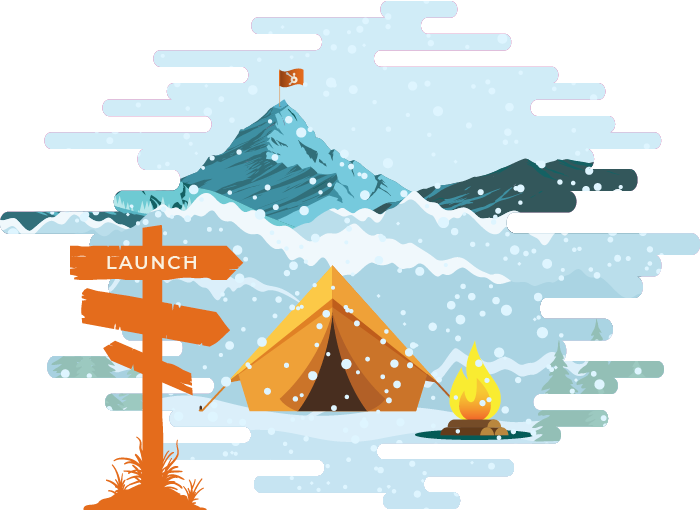 Its launch time, get ready to put all our plans into action and really see what HubSpot can do for your business! Once launched, new leads and re-targeted customers are going to start engaging with your content, qualifying for sales, becoming customers, and being delighted by your service team. If done right, lasting relationships can be built and customers become brand ambassadors.
Marketing campaigns are the fundamental building blocks to execute a successful marketing strategy that effective Sales and service processes can then be built on the back of. This means finding the right leads at the right times for the biggest impact and chance of success. So on that note, we will first build marketing assets to support the campaign content and provide signposts for potential leads to move through their buyer's journey. Once launched, new leads and re-targeted customers are going to start engaging with your content and build lasting relationships, if done right these leads and existing customers can become brand ambassadors.
It's time for your Sales teams to put your new sales plan into action! New qualified leads need to be contacted and existing customers need to be retargeted. Utilise HubSpot's sales tools to get the right reps communicating with potential customers at the right time with the right information and resources. Close deals faster using your new sales strategy and keep HubSpot pipeline up to date to track progress.
It's time for your Customer Service teams to utilise HubSpots communication and ticket system to resolve preexisting issues and delight customers. Get your service team dealing with new tickets quickly and efficiently and identifying any barriers to resolving issues ready to review and improve later.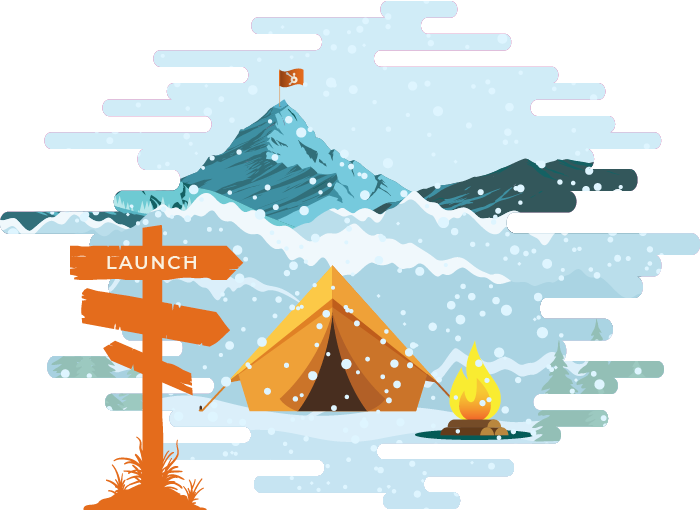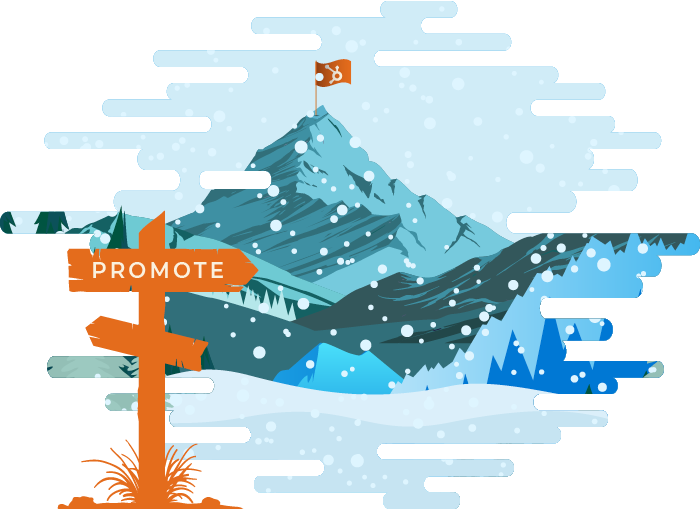 Promotion is key to attracting new leads and retargeting and delighting existing customers. This means it is important to have a good understanding of who your ideal customers are (buyer personas) what problems they are trying to solve, how your products and, or services help them, and how they want to interact with your business.
For Marketing, promoting campaigns should be a focused effort that guides consumers towards a desired action. Promotions give brands identity, personality and emotion, while inbound marketing puts the focus on relevant and timely communication with prospective and existing customers. Using segmented contacts and buyer personas we can identify which prospects will enjoy and benefit from your content and build email marketing campaigns to let them know. Social media is another crucial promotion channel for bringing traffic to your website and generating new leads.
For sales, promotion is about providing the right information at the right time to really shout about your products and services and ultimately close deals. Its also important for sales to retarget existing customers with offers, products, and services they will be interested in based on everything we already know about them.
For service, this stage is all about promoting your business! Building lasting relationships with your customers, identifying opportunities to retarget and delight will result in brand ambassadors who love your business so much they will promote it for you, nothing encourages growth better than happy customers!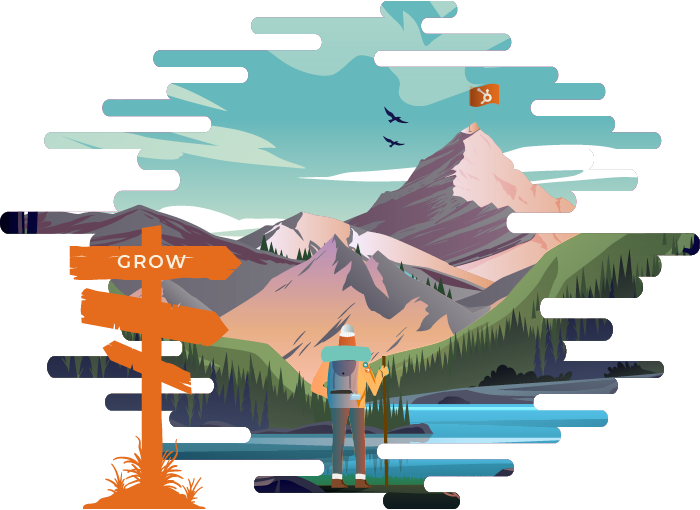 The overarching goal for any business is growth and HubSpot supports marketing, sales, and service to put your business firmly on the path to growth. Growing your audience and your customers ultimately improves ROI.
Content is one of the biggest growth drivers when it comes to website traffic and engagement with your business. To grow your audience and expand your reach online we need to make sure your content is being seen by the right people at the right times. We do this by optimising communication channels and your SEO for both human eyes and search engine bots.
To grow sales we will fully automate your sales process so no leads fall through the cracks once qualified and reduce friction preventing sales reps from closing deals.
We want to grow your business's good reputation by fully automating customer service processes. Team members will be notified about the right issues at the right times ultimately speeding up and streamlining your customer service processes leading to happier customers and more brand ambassadors!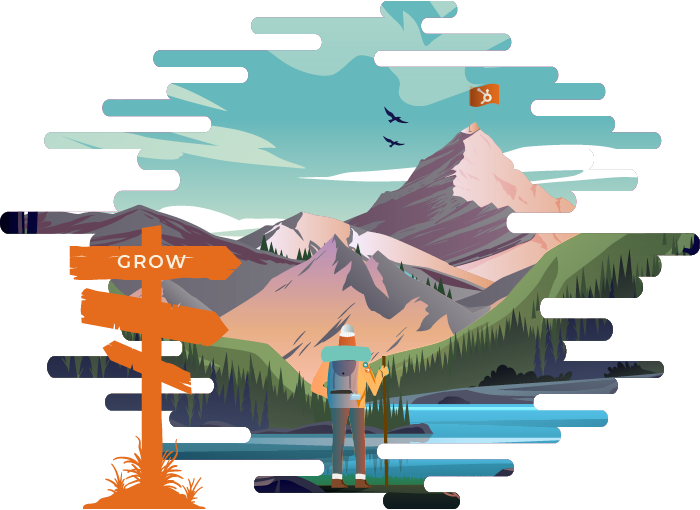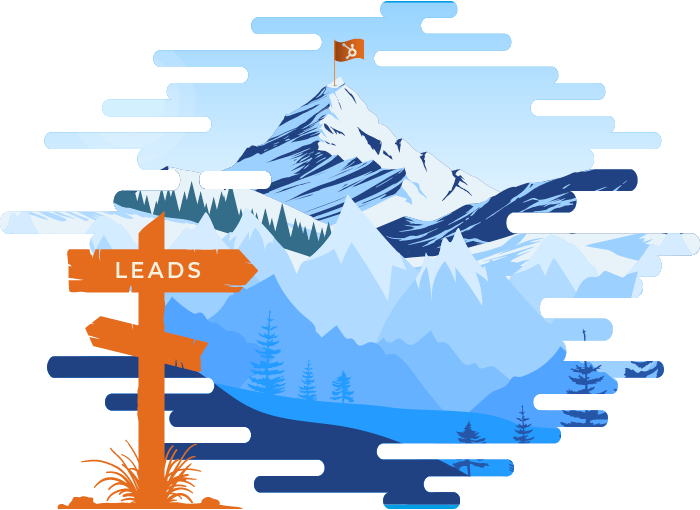 Workflows are an incredibly versatile HubSpot tool that offers support for Marketing, Sales, and Service teams. Workflows provide the automation to streamline all processes and make your teams more effective in achieving their goals. In the current economic climate, with many businesses reducing their human workforce, automation is becoming increasingly important and thats why workflows get their own very important stage.
For marketing teams, workflows can nurture leads in the background until they are ready to qualify for sales. We can set up workflows to execute entire marketing campaigns utilising all of your content and marketing assets. The key to effective marketing workflows is defining a goal and configuring the right settings to maximise the chances of conversion.
For sales teams workflows offer the opportunity to create consistency in the sales process taking qualified leads and converting them to customers. The right Sales Reps can be identified and notified by your workflows, information and resources can be supplied, deals can be updated and tasks can be highlighted all working towards a consistent and nurturing sales process.
For service teams workflows offer the opportunity to create consistency in the service process taking customers and converting them into brand ambassadors. The right team members can be identified and notified by your workflows, customers can be pointed towards information and resources allowing them to help themselves, tasks can be highlighted to team members and tickets can be updated all working towards a consistent and nurturing service process.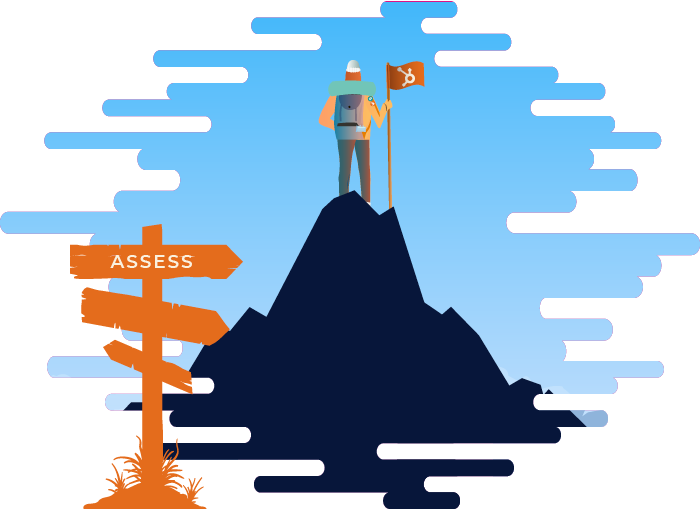 After all the hard work we have now done together it's time to look at the data we have gathered and see what worked like a charm and what needs to be improved. HubSpot is all about using data to make logical and informed improvements, ever adapting and striving to provide a better experience for leads and customers. HubSpot can gather a vast range of metrics across marketing, sales and service and with so much potential data its crucial we look at the SMART goals we set way back in stage 1 and focus on the metrics that demonstrate progress towards achieving these goals.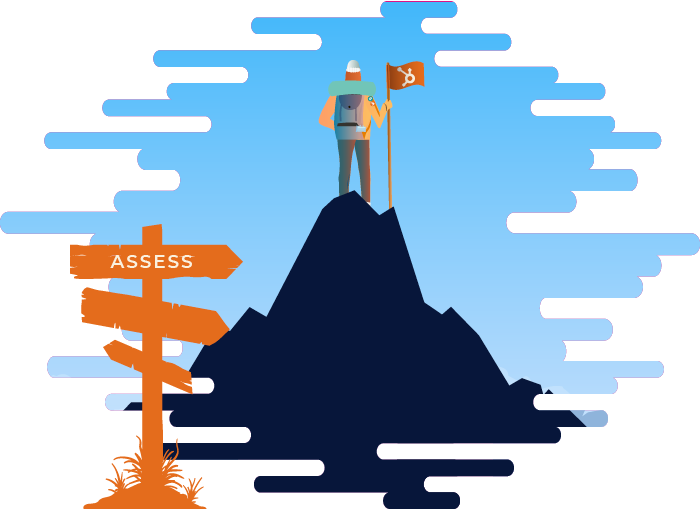 That is onboarding with UX-Digital in 8 key steps, but onboarding is only the beginning of your HubSpot journey!
Complete the form below for your copy of 'The Ultimate Guide to HubSpot Onboarding with UX-Digital' including detailed information for each stage of the onboarding process and helpful checklists to mark your progress...